| | |
| --- | --- |
| | Coorabell Creek NSW |
---
Running from just north of Bangalow, down the ridges and on through Mullumbimby and winding back to Brunswick Valley Way (the old Pacific Highway), Coolamon Scenic Drive is a World War 2 era segment of Old Highway One and is a GREAT drive. Old Mango Lane is a short piece of REALLY old highway created when the old highway was realigned at some time. What remains is a cool and shady walk back into history - it's hard to imagine a time when this was the main road between Sydney and Brisbane!
Click on any of the photos to see a larger version and then click on your browser's "back" arrow to return to this page.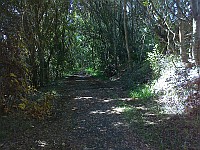 The leafy and shady old road.


Please feel free to contact me with your feedback or comments, especially any extra background or information you may be able to provide, and while you're here why not sign my guest book so I know you've been visiting.


| | | | | |
| --- | --- | --- | --- | --- |
| | | Best viewed at 1024 x 768 | | Last Updated: 13 Feb 2014 |