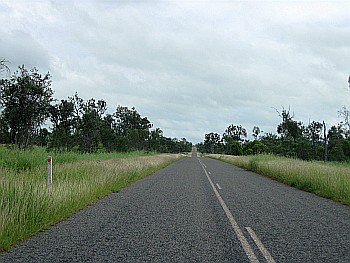 The buttons on the left are arranged in south to north order. The towns in each state's page are also arranged in the order you encounter them when driving south to north. For fun, I've added some extra buttons to collect groups of related photos together e.g. the pubs, giants, the food etc.
What is Highway One?
Australia's Highway One is a part of the life experience for most of us. It's our great coastal highway, tracing out our coastline. Very many of us live on or near it and travel on some part of it every day. Pacific Highway, Princes Highway, Bruce Highway, A1, M1; it goes by these and many other names. It reaches into and through and links every State; across Bass Strait a spur in Tasmania even links Hobart to Burnie. At over 14,500 kilometres in length it's the world's longest national highway and is truly one of the world's great road trip adventures.
Highway One grew out of a highly variable collection of local, regional and State roads. As the motoring and road transport needs of the country grew over time, so roads that were originally tracks were linked up, sealed, widened and improved to meet those needs. The growing need for a rational system for the construction and maintenance of efficient and safe arterial highways across State borders led to increasing Federal Government involvement and funding of key road systems. Highway One was born in 1955 out of this already-existing network of State roads and became National Route 1 in the then-new National Route and later, National Highway, systems.