| | |
| --- | --- |
| | Australian Scenic Places of Natural Beauty |
---
As I have said elsewhere on this site, the Australian countryside is unique in its variety. If you haven't visited this site yet, I encourage you to read the famous poem by Dorothea Mackellar as the poem says it all better than I ever could.

I will try to capture some of that diversity and "Jeckyl and Hyde" uniqueness on this site. Please check back from time to time as new sections will be regularly added to this page. The buttons below will take you to pages devoted specifically to those places. Where I only have one or two photos of a place, these are displayed below.

Click on any of the photos to see a larger version and then click on your browser's "back:" arrow to return to this page.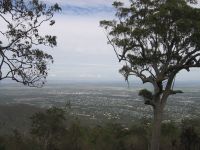 Mt Archer
Mt Archer is located on the eastern edge of Rockhampton, Queensland, and is about 600m high. A good but winding sealed road leads to a nice picnic and viewing area at the top. Lookouts offer excellent views, particularly over Rockhampton to the west and the coast at Yeppoon, some 30Kms to the east. A good network of bush-walking trails is available. Take insect repellent! The mosquitos are hungry and unafraid. Here is a link to the EPA Web Page on Mt Archer National Park.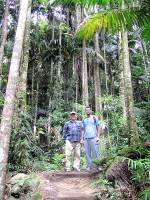 Mt Warning
Mt Warning is probably the best known landmark in the border ranges area between northern NSW and southern Queensland. It is said to be the first place in mainland Australia to be touched by the light of the rising sun and many people make the climb to the top of the peak to view the spectacle first hand. It is also a magnificent rainforest habitat, no doubt spared from the timber loppers by the steep terrain, and the place is positively spiritual in its beauty and rich wildlife and birds. Here is a link to the Official Web Page on Mt Warning.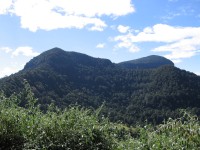 Springbrook
The elevated tableland and escarpments and associated National Park sit just on the Queensland side of the border with NSW. This is a beatiful spot and I will add more pictures next time I visit. In the meantime, please visit the Springbrook National Park Web Page for more information.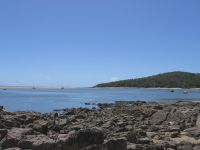 Town of 1770

A sleepy little place. Thankfully it is protected from development by the surrounding National Park so shouldn't go the same way as nearby Agnes Waters. Here's a link to a regional travel Web Page about the town and the surrounding area.


Please feel free to contact me with your feedback or comments, especially any extra background or information you may be able to provide, and while you're here why not sign my guest book so I know you've been visiting.


| | | | | |
| --- | --- | --- | --- | --- |
| | | Best viewed at 1024 x 768 | | Last Updated: 23 Dec 2010 |